MfP events throughout the year
Mary Knysh brings new experiences from all over the world.
We hope that, during these difficult times for the US, our colleagues
from Music for People are able to find solutions and possibilities,
and make a living from their musical activities. Many are working
in the field of education or health, or at universities. Those are all
fields which are on the current administration's black list.
This year especially, Music for People's task is one of peace policy.
Our work in Europe gives our friends strength during difficult
times. This year's motto, «Find your own voice!», can be extended
by «You are a voice!». We don't have to watch and listen,
tongue-tied, to what is happening around us.
«Give Love», David Darling's invitation to interact with one another
with open ears and arms, is more relevant than ever before!
In this spirit, we from Music for People Europe wish for a
powerful summer seminar at Kientalerhof, where we can live our
love for the world and our collective projects.
We play in a community in which everyone has the right to contribute:
old and young, rich and poor, experienced and curious,
man and woman, from here and there - to express themselves
through music and being allowed to be human, with all their
strengths and weaknesses. Making music helps aligning oneself
by hearing and including new interpersonal encounters. Through
the shared experiences and enthusiasm, it is possible to openly
try new things and to delve into familiar ones.
MfP Angebote im aktuellen Weltgeschehen
Mary Knysh bringt neue Erfahrungen aus der ganzen Welt mit.
Wir hoffen, dass bei den derzeitigen misslichen Bedingungen in
den USA unsere KollegInnen von Music for People Möglichkeiten
finden können und von ihren musikalischen Tätigkeiten leben
können. Viele arbeiten im Bildungsbereich, im Gesundheitswesen
oder an Universitäten. Alles Bereiche die bei der derzeitigen
Regierung auf der Abschussliste stehen.
Music for People trägt gerade dieses Jahr eine friedenspolitische
Aufgabe, unser Mitwirken in Europa gibt unseren Musikfreunden
in schwierigen Zeiten Kraft. Das Jahres Motto «Find your own voice!
» kann erweitert werden, mit «You are a voice!» Wir müssen
nicht laut und sprachlos zuhören und zusehen, was alles um uns
herum passiert.
«Give Love» David Darling's Einladung einander hörend und fühlend
zu begegnen ist aktueller denn je! In diesem Sinne wünschen
wir uns vom Verein eine kräftige Zusammenkunft im
Sommerkurs im Kientalerhof, in der wir unsere Liebe zur Welt und
zu gemeinschaftlichen Projekten leben können.
Wir spielen in einer Gemeinschaft zusammen, in der alle ein
Recht haben mitzuwirken. Alt und jung, arm und reich, erfahren
und neugierig, Mann und Frau, von hier von dort…mit allen Stärken
und Schwächen, sich musikalisch ausdrücken und Mensch
sein dürfen. Musizieren hilft, sich hörend auszurichten und neue
zwischenmenschliche Begegnungen mit einzuschliessen, so ist es
möglich, sich über die gegenseitige Anteilnahme und Begeisterung,
auf Neues einzulassen und Bekanntes zu vertiefen.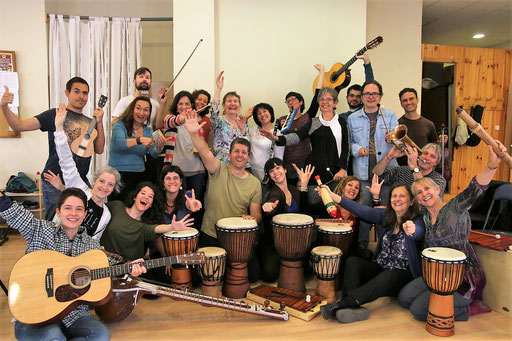 Workshop in Madrid, 20. - 23. April 2017
Mit Marisa Perez und Mary Knysh haben sich zwei begeisternde
Musikpädagoginnen zusammengeschlossen.
Marisa organsiert seit
Jahren Kurse und Workshops in ganz Spanien. Sie arbeitet mit
verschiedenen MusikerInnen zusammen, unter anderem auch mit
Mary Knysh. Die Musikschule El Corazón (Das Herz) gliedert sich
an Bioläden und ein Vegetarisches Restaurant mit biodynamischen
Produkten an.
In Madrid an der Schule El Corazón trafen sich für diesen Workshop
22 Menschen aus ganz Europa. Viele der Teilnehmenden
sind beruflich in Musikschulen tätig. Im Verlaufe des Kurses wurde
deutlich, wie wichtig die Gemeinschaft als Boden für musikalische
Begegnungen ist. Am eindrücklichsten wäre es, wenn anstatt
des Textes an dieser Stelle Aufnahmen aus dem Kurs zu hören
wären. Der musikalische Ausdruck, die Intensität und die Hingabe
wie die Music for People Formen gestaltet wurden, haben mich
berührt. Wie sich in einer überraschend ausführlichen Rückmeldungsrunde
zeigte, wurden bei den Teilnehmenden menschliche
und musikalische Prozesse angeregt, die nachhaltig in Erinnerung
bleiben werden.
In den drei Tagen erfüllten sich viele meiner Träume, die mich bewogen
haben, mit einigen Leuten den Verein Music for People Europe
2015 ins Leben zu rufen. Schlussendlich konnte ich es nicht
auflösen, warum das musikalische Erlebnis derart kräftig geworden
sind.
Ich möchte mich auf jeden Fall bei Mary Knysh und
Marisa Perez, sowie allen Mitwirkenden KursteilnehmerInnen für
unser gemeinsam erlebtes Musikgeschenk bedanken. It's you!
Matthias Rauh
Workshop in Madrid, April 20 – 23, 2017
Two elating music pedagogues, Marisa Perez and Mary Knysh, collaborated for this workshop.
For years, Marisa has been organizing
workshops all over Spain. She works with various musicians,
such as Mary Knysh. The music school El Corazón (The Heart) is
affiliated to organic shops and a vegetarian restaurant with organic
products.
At this school in Madrid, 22 people from all over Europe came together.
Many of the participants work in music schools themselves.
During the workshop, it became evident how important
the community is as a ground for musical encounters. The most
impressive thing would be if, instead of this written text, recordings
from the workshop could be heard here. The musical expression,
intensity, and dedication with which the Music for People
forms were modelled, touched me. A surprisingly extensive feedback
session showed that, in the participants, human and musical
processes were activated that will leave a lasting impression.
In those three days, many of my dreams came true. Dreams that
had lead me to bring the association Music for People Europe to
life in 2015. I still marvel at how strong the musical experience
has become.
On that note, I thank Mary Knish and Marisa Perez as well as all
participants for our shared musical experience. It's you!
Matthias Rauh