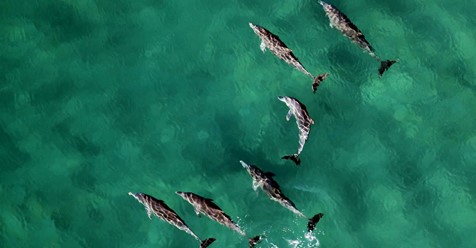 This is the story about the birth of a new Music for People satellite in Scandinavia in the region of Djursland Denmark.
I am a Danish music therapist and improvising musician who have followed Music for People for years - on the internet. The perspectives on music making, the playfulness, the techniques, the wish to build communities was so familiar to me and echoed an old dream of mine, but geographically we were very far from each other. Yet I saw a need in my community. After meeting Mary and Matthias on Skype last winter, I decided to enter the training program.
In the same period my husband Klaus was very stressed from his growing business and had been so for too long. A few weeks before my course started in Kientalerhoff, I passed on my tickets and reservations to him. It seemed to be the only way to break a vicious circle. He packed his bass and left his company and hard deadlines but returned from Switzerland with a soft voice and a new horizon. From there we have been two on the ride.
The 5. - 7. of April 2019 we are looking forward to welcome Mary and Matthias in our community in Djursland. This will be the first Music for People workshop in Denmark and this week I am submerged in Facebook to invite people I know from music groups, special schools, meditation communities, music therapy programs, volunteering, old neighborhoods etc. We also want to arrange impro gatherings on a regular basis. We have bought a small house next to our home to be able to house groups up to 15 persons.
We still want to attend courses and meet more of the Music for People community. And please feel free to contact us if you are going to Denmark and need a place to stay or would like to join a gathering or a workshop with us.
All the best from Klaus and Tine
You can contact us here: facebook or Stroem-musik.dk