February 9-11 Adventures in Improvisation Recap
"It was a great weekend with much stellar music and interactions- a great group." (Mary Knysh)
Another fantastic Adventures in Improv weekend, held at Immaculata College! So good, in fact, that we didn't get a group photo! *sad face*
But Mary did catch a few! We particularly LOVE the one of  Lesley Tao and Henrik. A real lightbulb moment.
Find more on our Facebook and Instagram pages. 
STUART FUCHS    Music for People Goes with Him Around the World.

Musicianship and Leadership Program Grad, Stuart Fuchs (aka Stukelele) has taken his Music for People training, its philosophies and influences into his role as a teacher/artist and leader of holistic and innovative ukulele workshops. His playing moves easily from exciting, "flying fingers" virtuosity, to delicately, peacefully, soulful melodies. His YouTube ukelele lessons show him to be an extraordinary teacher. (He does online as well)

Stu also tours internationally to concert halls and yoga festivals with the renowned Snatam Kaur.

This summer Stuart and his wife, Sarah Carlisle, will be at Omega Institute offering a Ukulele Zen Retreat.  This workshop brings ukelele players of all levels together to jam, learn different styles and, "Become one with the strum!"

Ukulele Zen was exactly what I was looking for as an approach to learning more about making music and playing my ukulele.  I had no idea I could solo until I became 'One with the strum'!"

Stuart graduated from the Musicianship and Leadership Program in 2005. About MfP, Stuart says, 
"While it may sound a little over the top, it's not an exaggeration to say that not a day goes by that I don't use the principles from Music for People in my life.  The musical practices, deep and compassionate listening, teaching skills, and the "mantras" of MfP have deeply enriched this wonderful journey of life.  
To say I am grateful for the teachings of David Darling and the entire MFP community is an understatement, but here goes:  THANK YOU!" 
You can learn more about Stuart here find Stuart's music, including his most recent CD, After All This Time  here

He releases new videos every Friday and Monday on his You Tube Channel, Ukelele Zen   

"Stu respectfully pushes the Ukulele to brave new heights, while keeping one foot rooted in a number of time honored traditions. He is definitely a part of the American Ukulele revival!"
— Lil' Rev, Author of the Hal Leonard Ukulele Method, Entertainer & Music Historian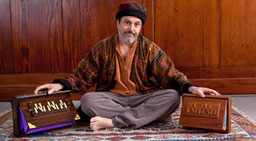 Gras Product
Ron Kraavitz sells the world's best sruti boxes
Shruti boxes provide a rich drone background that supports singing or playing almost any instrument. A shruti box is hand-pumped, so you can produce a slightly pulsating constant chord to support the right rhythm for the style of music you are playing. 
Says Ron, " We have spent years searching out the best shruti boxes and have found them! Our shruti boxes are imported from a maker in Germany and the other from the UK."

On Ron's Shruti Box website you can hear samples of each of the shruti boxes he sells, along with more info about each of them, including sizes, pitching, and sources for the components.

Ron always brings some with him to MfP Weekends and a portion of sales is given back to MfP.
 
 

MUSIC FOR PEOPLE GOES TO THE ROUNDGLASS MUSIC AWARDS
Neil Tatar talks about his experience on the Red Carpet.

Recently, I was invited to attend the 2018 Roundglass Music Awards as part of Grammy week in NYC.  Roundglass is an international organization that promotes peace, wellness, and environmental consciousness.

Their website mentions the awards ceremony as "celebrating enlightened musicians from around the globe, who create music to make this world a better place."

The awards ceremony was by invitation only, and I was included as a finalist for Best Contemporary Instrumental song of the year for "When I Was Young", a piece from my latest release After The Rain.

Also, as a qualifier for this award I was included as finalist for Enlightened Song and Enlightened Musician of the Year.
Oh well, that went to Ringo Starr!

The good news, it was fun. Lini and I dressed the part, which was black tie OR native costume. Since native costume for us tends to be sweatshirts and slippers, we opted for tux and long black dress.

There were many artists representing countries from around the world, so much of the "native dress" was interesting to see.

There was a great concert, featuring a wide array of musicians from rock to classical. Patty Austin (rock and r&b) gave a gutsy and powerful performance, as did Paquito D'Rivera (Cuban sax player), and Ronny Cox (American Roots music).

Following the concert was a dinner and plenty of time to network with like- minded musicians.  Lini and I thought It was a fun event, and personally I felt honored to be included in such an interesting group of musicians.  

                                                      Neil Tatar


Neil's newest CD, After the Rain is available on Amazon and iTunes.
#MfPLove

MLP Grad, Sharon Little, recently facilitated a 90-minute MfP-style workshop at Western University in London Ontario for first year Music Students in a Music Education class.

She asked them what surprised them and what they learned:
"Improv isn't as hard as I once thought."
"I was surprised by how everyone opened up...and were really playing who they were."
"I enjoyed it when all participants began to listen for themselves."
"ENJOY dissonance!"
"How much easier it was to improvise after just one class."
"Dissonance gives you a chance to breathe."
"Even though we were all playing different things, it still sounded awesome!"
"Eye contact! Breathing together."
"Just ground yourself and have fun."
"I can push past that 'edge.' "
"When in doubt, be simple."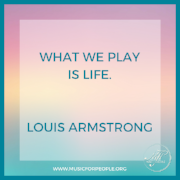 #MfPLove

One of our most popular Instagram posts in the past month.

Follow us @MfPImprov 
Come join us May 4-6 at Stony Point Center, New York.

Music for People is a worldwide community dedicated to the belief that all people are inherently musical, creative, and capable of authentic, spontaneous expression. We enable holistic music making for people of all ages and levels of experience.

Our workshops are fun, open to anyone—and will change your life!
| | |
| --- | --- |
|   | NEWS from Music for People Europe/Switzerland |
For twenty years now, Music for People has had a vigorous, active MfP movement based in Switzerland. During our 30th anniversary year, several MfP Europe grads came to AOI to celebrate with us  and we ALL loved it.

Time Now for MfP Europe to Celebrate!

On March 17 , at their Workshops und Fest, they are launching their own Resource Book, "Grundlagen der Improvisation." 
CONGRATULATIONS!
YOU DID IT!

And watch this space in upcoming newsletters as we bring you updates and news from MfP Europe and its members as we begin a new initiative to bring the two groups into closer touch with each other.

For more information about the next Musicianship and Leadership Programme in Switzerland, go here.


 
 

ARE YOU A MEMBER?

Benefits for you:
$50 off tuition at our weekend workshops 
$100 off our summer workshop Art of Improvisation
10% off Satellite Workshops
20% off advertising rates in our semi-annual e-magazine, Connections
10% off items at the MfP Store

Benefits for us:
Supports our weekend Adventures in Improvisation workshops and our week-long Art of Improvisation workshop
Keeps our office website and social media up and running
Helps us fulfill our mission.
Thank you for being part of our community.

Our mission is to encourage an accessible and mindful approach to creative expression through improvisation in a safe, joyful, and nonjudgmental atmosphere.

We believe music made in this way is a powerful path to personal and social transformation, artistic freedom, and community building. Music improvisation focusing on play and inclusivity perpetuates acceptance and positive understanding between people.
| | |
| --- | --- |
|   | We thought you'd like this... a TEDx Talk by Anita Collins about children and music education. |
What if all children had access to music education?
Watch this TEDx Talk by Anita Collins
Here's the science...