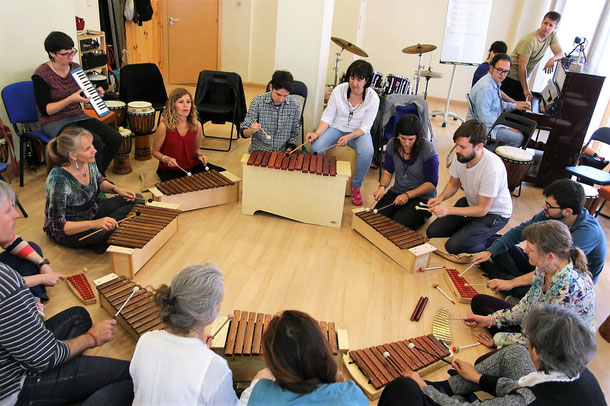 CELEBRATING THE RETURN OF MUSIC FOR PEOPLE
July 08 to 09 2022
With MARY KNYSH
MÚSICA CON CORAZÓN
We are very happy to announce that Mary Knysh is willing to return to
Madrid this summer, to resume our Music For People Program.
After all this time we have been disconnected, we had been able to give
even more value to some things, one of them was, undoubtedly, making
music together in a space as beautiful, safe and luminous as the one that
Mary creates for us in each seminar.
For this reason we want to arrange a meeting with all people who was at
least once with us in Music for People Spain. This is a closed group, a very
special gathering to honor Music, Improvisation and Mary Knysh.
At the end of Friday session we can enjoy dinner together to catch up.
Looking forward to see you again!
Mentor: MÚSICA CON CORAZÓN www.musicaconcorazon.com
Venue:
Escuela de Música con Corazón
C/ Ramiro II, nº7
28003 MADRID
Schedule:
July 08 from 5:00 pm to 9:00 pm
July 09 from 10:00 am to 2:00 pm
Contact and registration: info@musicaconcorazon.com
Telephone: +34 644 415 452
Price: 100€ +20€ Dinner
Bank ES79 2100 0966 1513 0043 8917
Recommended hotel for accommodation:
-Hostal Cuatro Caminos
(in a walking distance to the seminar place)
-Pensión Navarra
www.pension-navarra.com