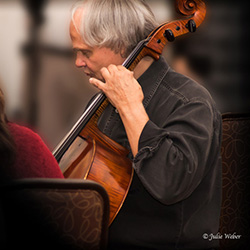 It is with great sadness that we share the news of David Darling's passing. He passed away peacefully yesterday at home with his family.
Please keep David's family in your thoughts and prayers. Along with the family, we are establishing a David Darling Memorial Scholarship Fund and there will soon be information forthcoming on how to make a contribution honoring his great gifts to the world.
As a performer, composer and teacher, David impacted countless lives worldwide, always encouraging us to ignite the creative spark from within. In the words of a graduate of MfP's Musicianship and Leadership Program: "David saw the beauty in each of us, and then sent us out to give others permission to make and share their own beautiful music."
Please keep David's family in your thoughts and prayers during this time. We are working with them to establish a memorial scholarship fund, honoring David's contributions while carrying his legacy forward to future generations. Details about how you can help will be released soon. 
David will not receive a public burial, but we are planning a celebration of his life for friends and members of MfP. Until then, please visit Thurston Rowe Funeral Home's website to view David's obituary and send an online condolence.
Now and always, we must come together in love and support. "In improvisation as in life," David wrote, "we are responsible for the vibrations we send one another."
Photo by Julie Weber
Music for People Europe, News Blog
Save the date "Celebration of Life"
Remembering David, we will celebrate life together: ZOOM meeting on Sunday, March 4th , 2021 at 7 pm (Middle European Time).